2014 Intake for Masters Programme Which Equips People for Transformational Development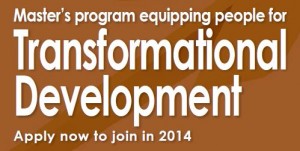 For practitioners in advocacy, aid and development, and social welfare organisations.
A unique master's program to integrate developmental practice and Christian theology.
A 3 year, part-time program - earthed in participants' ongoing work/ministry settings.
Australian government accredited.
Due to its immediate popularity, a new intake of students will commence in 2014.
This regional program is offered by AGST Alliance in partnership with Malaysian Care and Tabor College (Victoria).
Click here to download the program brochure.
For more details, email Dr Allan Harkness at dean@agstalliance.org.