"Above all else, guard your heart, for everything you do flows from it." — Proverbs 4:23
When a crucible heats up, the substance in it is transformed. When hardship turns the heat up in our lives, that's when we discover the true nature of our hearts.
In this series of Biblical Character Series, Crucible, we step into the life of David—to discover the critical moments of decision-making he experienced and learn from how he responded to God. The transformation of this "man after God's own heart" provides us with valuable lessons on how to seek God and have our heart grounded in Him, above all things.
This interactive and life-changing seminar is for the heart that seeks to be transformed by God. Make the choice to experience God's divine intervention in your life!
Date: 21 July 2021
Time: 7.30pm–9pm
Venue: via Zoom
Cost: Free | $5 (Optional purchase of E-copy of Crucible workbook)
Trainer:  Rev Dr Peter Poon
Registration closes on 14 July 2021
*Upon registration, you will receive the link to the Crucible videos & the zoom details for the Online Conversation
Please contact us at sowerinstitute@bible.org.sg or call 6304 5286 with your registration number if there are any issues during registration.
Follow us on Facebook & Instagram to stay updated!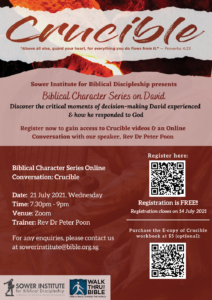 Trainer
Rev Dr. Peter Poon 
Rev Dr. Peter Poon is currently serving as the Partner-in-Ministry with Sower Institute for Biblical Discipleship at the Bible Society of Singapore. He has been involved in Walk thru the Bible Ministry since 1988. Rev Poon has also served in four Presbyterian churches starting from 1981, but is currently retired from full-time pastoral ministry. He is passionate about teaching and training, as well as coaching and mentoring emerging leaders.
---