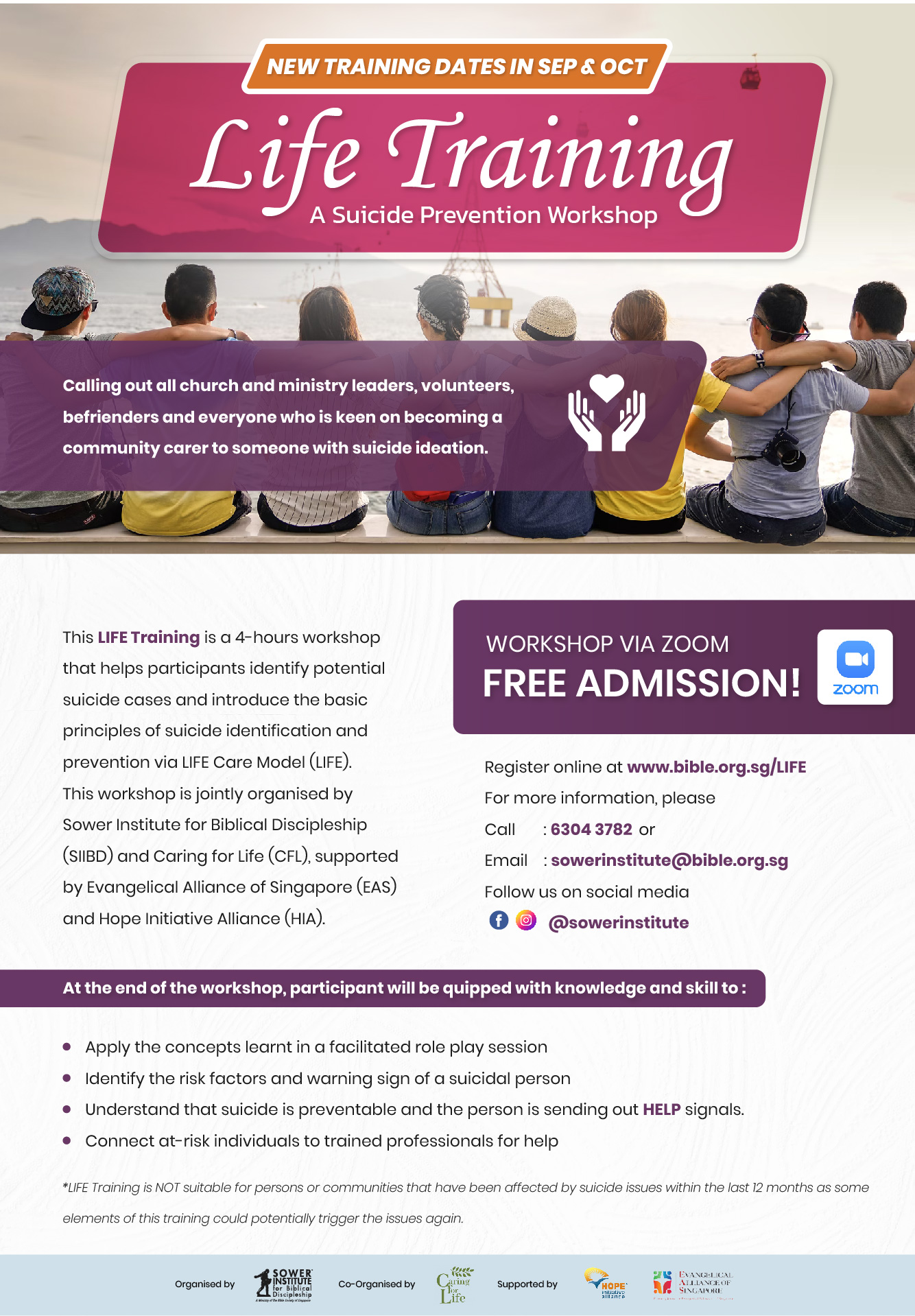 Calling out all church and ministry leaders, volunteers, befrienders and everyone who is keen on becoming a community carer to someone with suicide ideation.
This LIFE Training is a 4-hours workshop that helps participants identify potential suicide cases and introduce the basic principles of suicide identification and prevention via the LIFE Care Model (LIFE).
This workshop is jointly organised by Sower Institute for Biblical Discipleship (SIBD) and Caring for Life (CFL), supported by the Evangelical Alliance of Singapore (EAS) and Hope Initiative Alliance (HIA).
At the end of the workshop, participants will be equipped with knowledge and skills to:
Apply the concepts learnt in a facilitated role play session
Identify the risk factors and warning signs of a suicidal person
Understand that suicide is preventable and the person is sending out HELP signals
Connect at risk individuals to trained professionals for help.
Dates and Time available:
Wednesday, 28 September 2022 at 6PM - 10PM
Thursday, 27 October 2022 at 6PM - 10PM
Speaker Bio
Mr Gerard Das
Gerard was awarded Master of Social Science (Counselling & Psychotherapy) from Edith Cowan University, Australia. He has a Diploma from the School of Ministry, Tung Ling Bible School and is a Training Facilitator in Classical Trauma Healing from American Bible Society. He is also a professional in suicide intervention. He has conducted trainings in Singapore, Indonesia, Sri Lanka and Mongolia.
Gerard was a lecturer and training consultant at the Institute of Technical Education for more than 25 years. He was the Clinical Manager at Simei Care Centre – now known as Anglican Care Centre (Simei), which provides psychiatric rehabilitation for people with mental health issues. Currently, he serving as CFL Clinical Director in assisting the Executive Director in its strategic direction, operation and development.
---