BACKGROUND
In 2013, Australian artist, Dianne Minnaar, painted the 14 Stations of the Cross on 1.2m tall hoop pine kneelers stripped from old church pews. Rich in symbolism, the 14 individual panels were made by bracing two kneelers together in the same way early icon panels were braced in the 3rd and 4th Century. The kneelers are a stark reminder of Christ praying in the garden of Gethsemane.
The worn panel edges, cracks and nail holes were all deliberately retained to symbolise the wounds and suffering of Christ. The colours are also highly symbolic. The white symbolises the purity of Christ, the earth tones – Christ's humanity, the 18-karat gold – His divinity and the wood grain speaks of the cross.
EXHIBITION
Get to meet Dianne in person to learn more about the making of the 14 Stations, watch her complete a live painting in the exhibition space on a stretched canvas, or pick up some painting techniques from her at the 'Painted Scripture Workshops.
Exhibition Period: 13 - 28 April 2019 (Monday - Sunday, 11am - 7pm)
Painted Scripture Retreats:
13 & 14 April 2019 (Saturday & Sunday, 10am - 12pm)
Art materials (collage papers, coloured pens, paint and brushes) will be provided.
Live Painting: 13 & 14 April 2019 (Saturday & Sunday, 1.30pm - 3.30pm)
The theme of the live painting will be based on Mark 16:1-11 "Jesus appears to the women at the tomb".
Venue: Far East Plaza, Level 2 Concourse, 14 Scotts Road, Singapore 228213
ITEMS FOR SALE
Do check out our exciting items for sale during the exhibition!
"Stations of the Cross" Fine Art Reproductions
"Stations of the Cross" Bookmarks
"Sacred Images" Fine Art Reproductions
All proceeds will go towards the Bible Mission and charitable causes.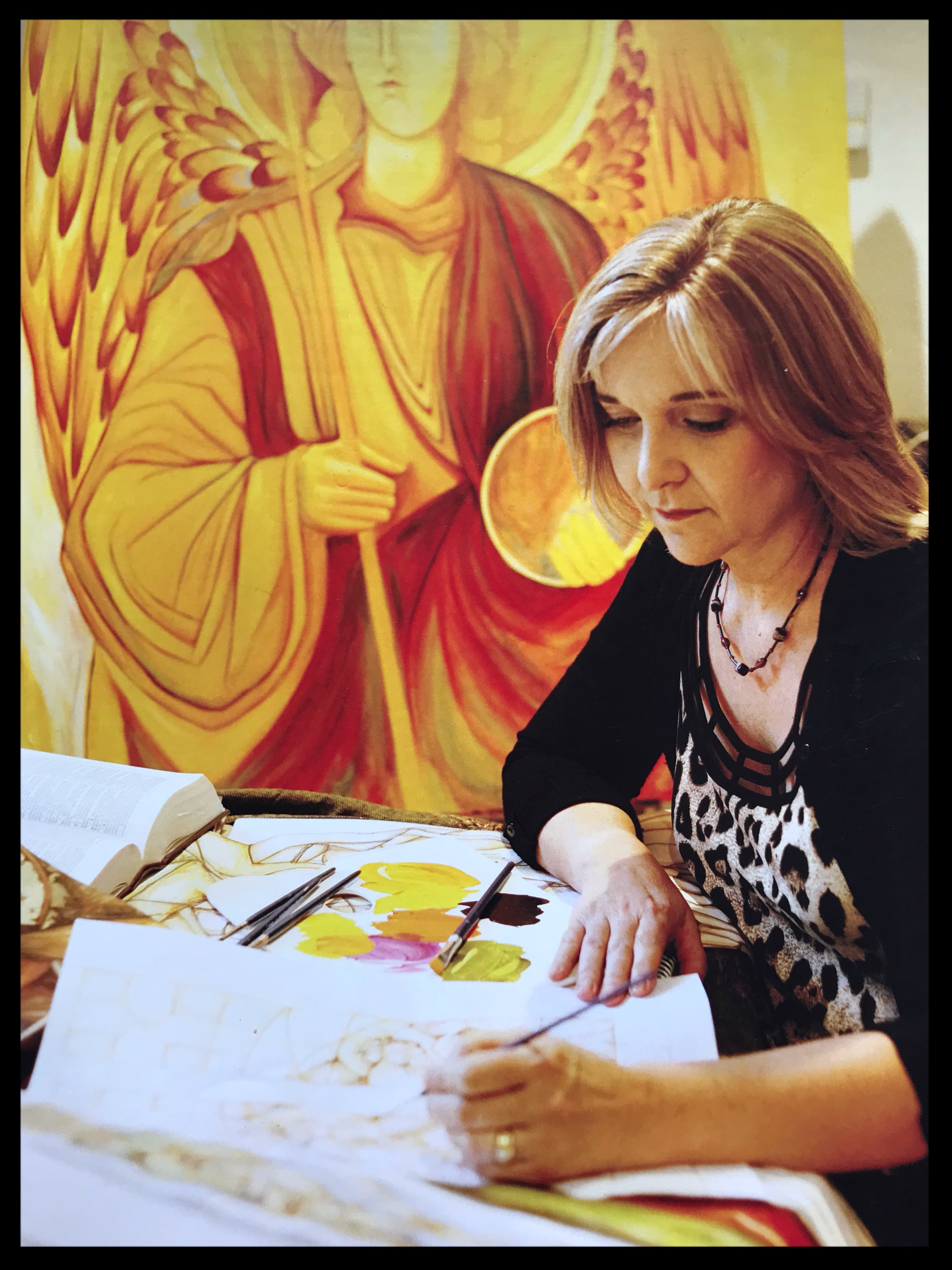 Dianne has been a professional artist and calligrapher for over 35 years. She graduated in Biblical Studies and Graphic Fine Art in South Africa and immigrated to Australia in 2001.
Ancient Christian imagery, illuminated manuscripts and icons have influenced Dianne's painting practice for many years. She interprets these in a contemporary context. These influences form the basis for her stylized images.
Dianne works primarily in acrylic and mixed media on camphor laurel panels. She employs various tactile techniques such as glazing, torn collage and 18-karate gold leaf.
Her artworks are included in numerous private and corporate collections worldwide.
She has also participated in numerous global events as artist in residence to promote Scripture engagement, including:
2018 illumiNations Asia Conference, Kuala Lumpur
2017 The Bible Society of Singapore, 180th Anniversary
2016 United Bible Societies World Assembly, USA
---