The Bible Resource Centre makes Bibles and a wide range of other Scripture resources available to people from all walks of life. 
The BRC is also the hub of operations for the Bible Resource Network, which works to make the Word accessible to people from many different language groups, and is active in resourcing BSS' Bible Mission Trips, where teams participate in distributing Bibles to Christians in various regions.
View this month's promo: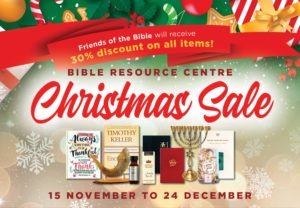 Apply to Open a Satellite Bookstore
We believe that one of the most important things Christians can do in their walk with God is to be continually learning and growing in their faith.
This desire has led to the Bible Society partnering with churches to set up bookstores that are run by the church but supported and resourced by the Bible Society. The core purpose of Bible Society Satellite Bookstores is to give people access to a vast array of Christian resources while simultaneously funding the Kingdom of God.
Since a percentage of the proceeds go to funding both the church's mission fund and the global Bible Mission, these bookstores provide a wonderful opportunity for churches to build up their members and support missions simultaneously.
The Bible Society of Singapore's 2020 Calendar
As children of God, we are called to be the salt and light of the world (Mt 5:13-14); this means being ambassadors of Christ, bringing and spreading the love of God to all. This is the inspiration behind The Bible Society of Singapore's 2020 Desk Calendar, where we want to remind ourselves to care for others by showing them God's love.
This calendar will make a unique and meaningful gift for your staff, church members and loved ones. Purchasing the calendar is also an act of service to various communities, as all proceeds will go toward supporting the Bible Mission.
The Bible Society's 2020 Calendar
Opening Hours
Operating hours at 7 Armenian Street:
Monday: 11am to 7pm
Tuesday: 10am to 8pm
Wednesday to Friday: 10am to 7pm
Saturday & Sunday: 10am to 2pm
Closed on Public Holidays
---