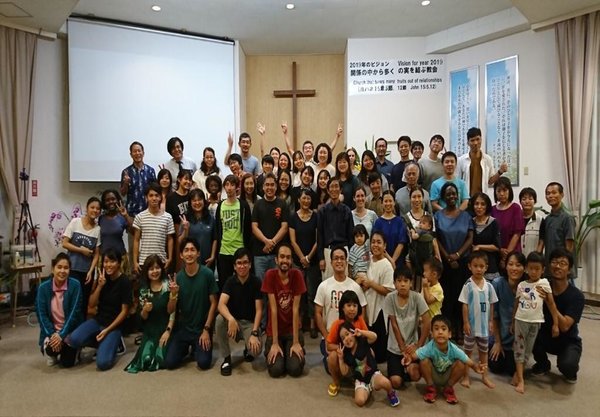 Hear the word of the LORD, O you nations, and declare it in the isles afar off, and say, He that scattered Israel will gather him, and keep him, as a shepherd does his flock. Jer 31:10
Ministry: Centre for Advocacy, Relations and Engagement 
DECLARE is an expression of unity, to bring together different parts of the Body of Christ in thanksgiving, celebration and worship in a City or Nation.
In 2017, DECLARE began as a beginning-to-end Bible proclamation anchored with The Bible Society of Singapore. It has been held annually over the feast of Pentecost, or Shavuot, as a time commemorating the Law given to Moses at Sinai [Ex 34] and the outpouring of the Holy Spirit in Jerusalem [Acts 2]. First held as 72-hour readings by teams reading in succession, Declare is being adopted by churches and fellowships in communities in Singapore, Okinawa, Japan, Sri Lanka and Timor Leste in various adaptations.
Our desire is to see the church without walls across the nations proclaiming the Word of God in 2020 and beyond. We have witnessed how much the declared word has blessed both readers and communities. We even hear of miraculous healings taking place and we would like the transformative power mentioned in Isa 55:11 to reach out to more nations. Your gift enables us to defray costs for worldwide communities, including increasing IT efficiency and communications. Any financial help relieves the pressure of fundraising so that our team of volunteers can concentrate on spreading the Word.
Mode of Giving
To support our efforts towards the Bible Mission, you can donate right now.
For donations via PayNow, please use your mobile banking app to scan the PayNow QR Code or key in BSS UEN No.: S70SS0023A.
Please indicate <Your Name> followed by <DFD> "Donation for Declare" in the reference field.
Alternatively, Cheque donations can be addressed to The Bible Society of Singapore, 7 Armenian Street, Bible House, Singapore 179932.
(At the back of the cheque, please indicate "Donation for Declare ")
For bank transfer, below are the following details:
Account Name : The Bible Society of Singapore
Account Number : 581-834306-001
Bank Name : OCBC
You can make a difference.
---