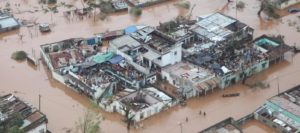 (Image Source: UNICEF)
⠀
About Cyclone Idai and Cyclone Kenneth:
Cyclone Idai hit near Beira city, Mozambique, on March 14, 2019. The heavy rains and strong winds led to flash flooding, hundreds of deaths, and massive destruction of property and crops. Just under six weeks later, on April 25, Cyclone Kenneth hit northern Mozambique about 600 miles away from where Idai had dealt its blow. 
Cyclones Idai and Kenneth are one of the worst storms to have ever hit Mozambique. The catastrophic flooding that resulted from these cyclones has affected almost 2.2 million people in Mozambique and its neighbouring countries. 
---
Timeline:
(from https://www.worldvision.org/disaster-relief-news-stories/2019-cyclone-idai-facts) 
March 3
– The tropical disturbance that would become Cyclone Idai develops and begins to strengthen near the coast of Africa.
⠀
March 5
– Heavy rains cause severe flooding across Mozambique and Malawi.
⠀
March 11
– Now a tropical depression, the storm builds in intensity between coastal Africa and Madagascar.
⠀
March 14 to 15
– Tropical Cyclone Idai makes landfall near Beira, Mozambique, as a Category 2 storm with sustained winds exceeding 105 mph.
⠀
March 20
– Heavy rains continue along with search and rescue operations and damage assessments.
⠀
March 21 to 27
– Governments and humanitarian aid agencies begin responding with life-saving relief supplies to the affected areas.
⠀
March 28
– The Mozambique government calls off the search for survivors of Cyclone Idai.
⠀
April 2
– Cholera cases in Mozambique
top 1,400
, according to health officials.
⠀
April 25
– Cyclone Kenneth
hits northern Mozambique
with winds above 125 mph.
---
How much damage was caused?
Cyclone Idai wiped out roads, bridges, and dams as it swept through Southeast Africa. According to the United Nations, Cyclone Idai and subsequent flooding destroyed more than an estimated $773 million in buildings, infrastructure, and crops. As a result of Cyclone Idai itself, more than 100,000 homes were also damaged or destroyed.
Additionally, Cyclone Kenneth is estimated to have destroyed about $100 million worth of homes, crops, and infrastructure, including boats and equipment belonging to coastal fishing villages.

What was the impact on the Bible Society of Mozambique?
As a consequence of Cyclone Idai, the Bible Society depot in Mozambique suffered huge damages. The violence of the cyclone winds washed away all the roof, thus destroying all Scriptural stock in the warehouse. Additionally, the roof of the office managing the Ndau Revision Bible was destroyed, and books and computers in the office were also damaged.
What is the death toll?
More than 1,000 people have died from the impact of Cyclone Idai and Cyclone Kenneth.
About Mozambique:
Mozambique is a country of 29 million people who live between 4 extremes, namely drought, floods, poverty and tropical cyclones. Apart from poverty, natural disasters are cyclical, leaving little room for the Mozambique people to restore their country.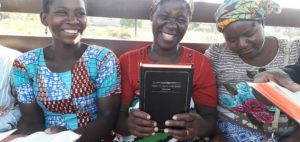 ---