This article was originally posted in our December 2021 Word@Work.
"And we all, with unveiled face, beholding the glory of the Lord, are being transformed into the same image from one degree of glory to another. For this comes from the Lord who is the Spirit." —2 Corinthians 3:18
The Word of God transforms us. This experience does not discriminate—people from any walk of life who have genuinely encountered Christ can proclaim the power of His transforming work in their lives. The living Word allows people all over the world, regardless of age or status quo, to have the opportunity to discover Jesus. Thanks to Christmas, the Word became flesh to dwell among us. Although we celebrate Christmas on one day each year, the truth is that Christmas is every day.
Embracing change requires complete faith in God and being centred in the presence of God. It is an opportunity for spiritual growth and helps us build resilience. As we go through the different seasons of life, we can remember Isaiah urging us to trust in the Lord as we seek God's will. He says: "Forget the former things, do not dwell on the past. See, I am doing a new thing! Now it springs up; do you not perceive it? I am making a way in the wilderness and streams in the wasteland."
To say that the COVID-19 pandemic has changed the world would be an understatement. In a few months since the virus emerged, it's upended day-to-day lives across the globe. The pandemic has changed everything from how we interact with each other, to healthcare, travel, education, and the way we do our jobs. Social distancing guidelines have led to a more virtual existence, both personally and professionally.
BSS Evolves with the Times
In order to meet the evolving needs of the Bible Mission and the world we serve, The Bible Society of Singapore (BSS) has undergone numerous changes since its official registration in 1837. Next year, BSS celebrates 185 years of demonstrating God's glory. The initial mission was to make the Word of God available to all nations through Bible translation and publishing, then subsequently distribution across the globe. But when the need to educate people arose, literacy programmes were introduced. Then to help the Christian community grow deeper in God's Word and make Scripture relevant in the context of today, engagement and advocacy programmes were initiated. A Holistic Ministry has also been established to support the underprivileged and marginalised communities who face hardships like persecution, poverty and natural calamities, and provide them with holistic care and the hope from God's Word.
At present, the strategies of BSS have evolved during the COVID-19 pandemic by moving to more digital initiatives, so as to continue allowing others to encounter Christ through the refreshing waters of the Biblical text. But its purpose remains the same: to make the Word of God known to all peoples. It is our mission to continue being used as God's instrument to fill all the nations with the knowledge of His glory.
Transitioning to a Different Way of Life
In spite of the prolonged COVID-19 situation, BSS has remained resolute at organising various engagement and advocacy programmes on online platforms. In 2021, Sower Institute for Biblical Discipleship (SIBD)—a ministry of BSS—has reached dozens of countries and over 15,000 participants with its digital initiatives. The Church is also left in a liminal state with numerous disruptions in Church life and ministry. To examine this issue, ETHOS Institute for Public Christianity—a ministry of BSS—organised The Post-Pandemic Church: Will it be Cancelled? in October 2021 to contemplate the various reasons popularly offered as to why the Church should be cancelled and how it can respond to these challenges.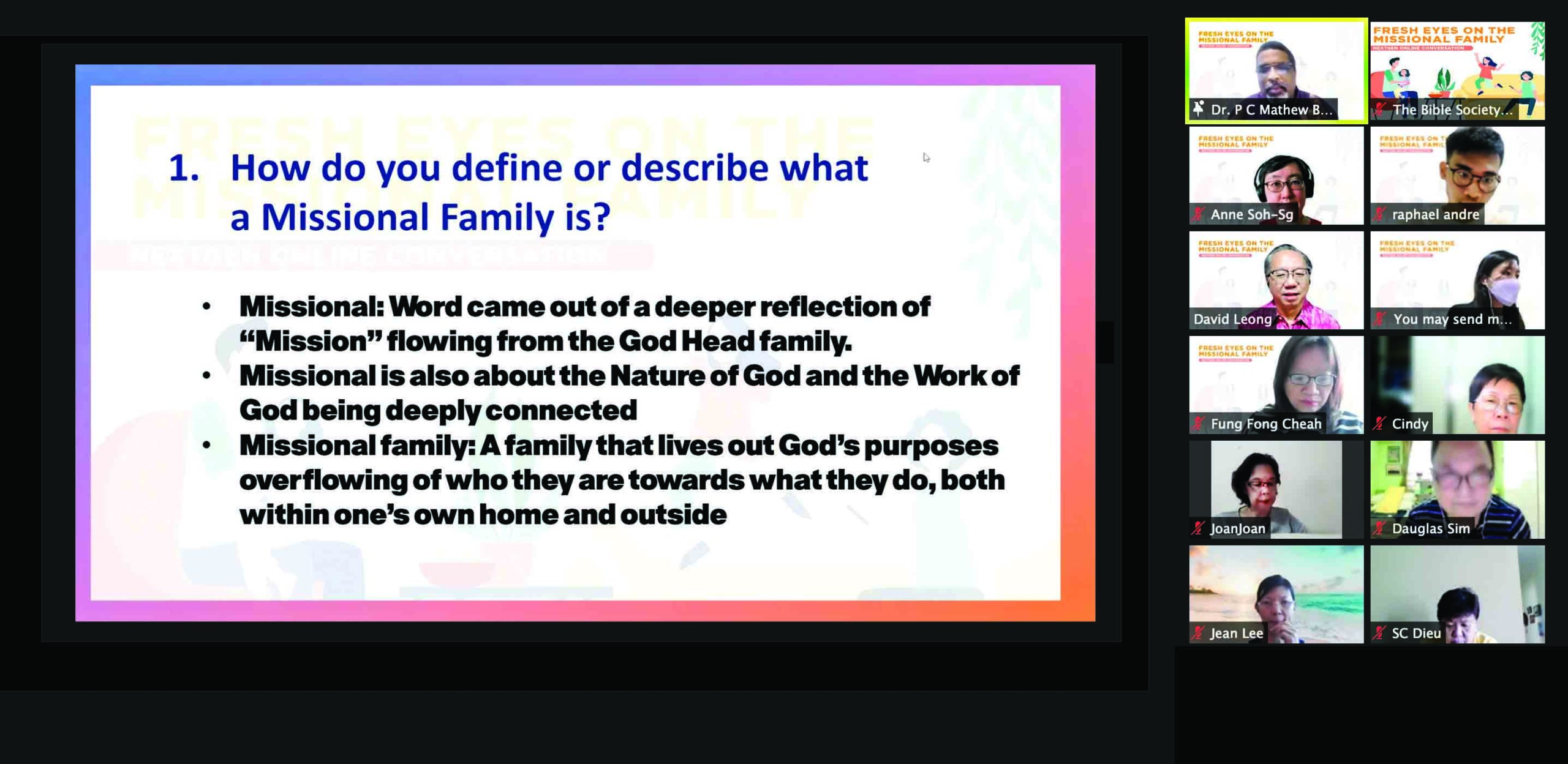 Growing as a Family
Embracing change together as a strong family unit not only builds resilience, but also allows the family to grow spiritually together. With our families being our first ministry, this time of altered daily life due to COVID-19 may provide a unique opportunity to hit the reset button in this season. In line with that, NextGen Ministry, which aims to equip the Church in Singapore to raise up the next generation to be firm in their faith and devoted to the Word, has organised Fresh Eyes on the Missional Family. This online conversation was held in September 2021, and explored how both parents and their children can partner in God's mission in their daily living. As the panel of speakers shared about their journeys in serving God together with their families, other families were also encouraged to enter a new season of reaching, loving and serving people for God together.
The Family Ministry of BSS is organising D6 Family Conference 2022 to share the principles drawn from Deuteronomy 6, strategies and best practices on generational discipleship and family ministry that are tailored to the times we live in today. "Under the theme of Recalibrating, next year's conference will focus on helping families to adopt healthy practices and honouring God in the way families are led in the Church," says Dr Cheah Fung Fong, Co-Chairperson for D6 Family, Singapore.
Experiencing God through Art & Culture
God has not just spoken to us in words, but also through images and other forms of creative expressions. In essence, art provides an effective route of access to God. Jointly organised by BSS and The Embassy of Israel in Singapore, Colours of the Bible is an annual art competition and exhibition that encourages all to experience the beauty, culture and history of the Bible and the land of Israel. Held from September to December 2021, this year's virtual art exhibition— themed New Beginnings in the Bible—has displayed artworks that have inspired viewers as they embark on new seasons in life during this ever-evolving situation around the world.
The Chinese Ministry of BSS has also organised The Bible and Chinese Culture Festival, which is another annual initiative that allows the community to grow creatively. Held from September to December 2021, the online event brought Scripture to life through Chinese painting and calligraphy, allowing others to encounter Christ through God's Word and Chinese culture.
Demonstrating the Love & Life of Christ
SowCare—the community service arm of BSS—offers holistic ministry to serve and provide holistic care for struggling communities in Singapore and beyond. This Christmas season, we are especially reminded to bless others by bringing joy and hope to the guest workers, homeless, and poor and needy communities, as we celebrate Jesus' life and ultimate sacrifice.
SowCare actively partners with Alliance of Guest Workers Outreach (AGWO)—a movement of Hope Initiative Alliance (HIA)—to collaborate with MOM to reach out to the guest workers in Singapore. AGWO welcomed and acknowledged the Press Release that MOM issued on 9 September 2021, where vaccinated guest workers can gradually return to the community and recommence recreational activities with health and safety protocols still put in place.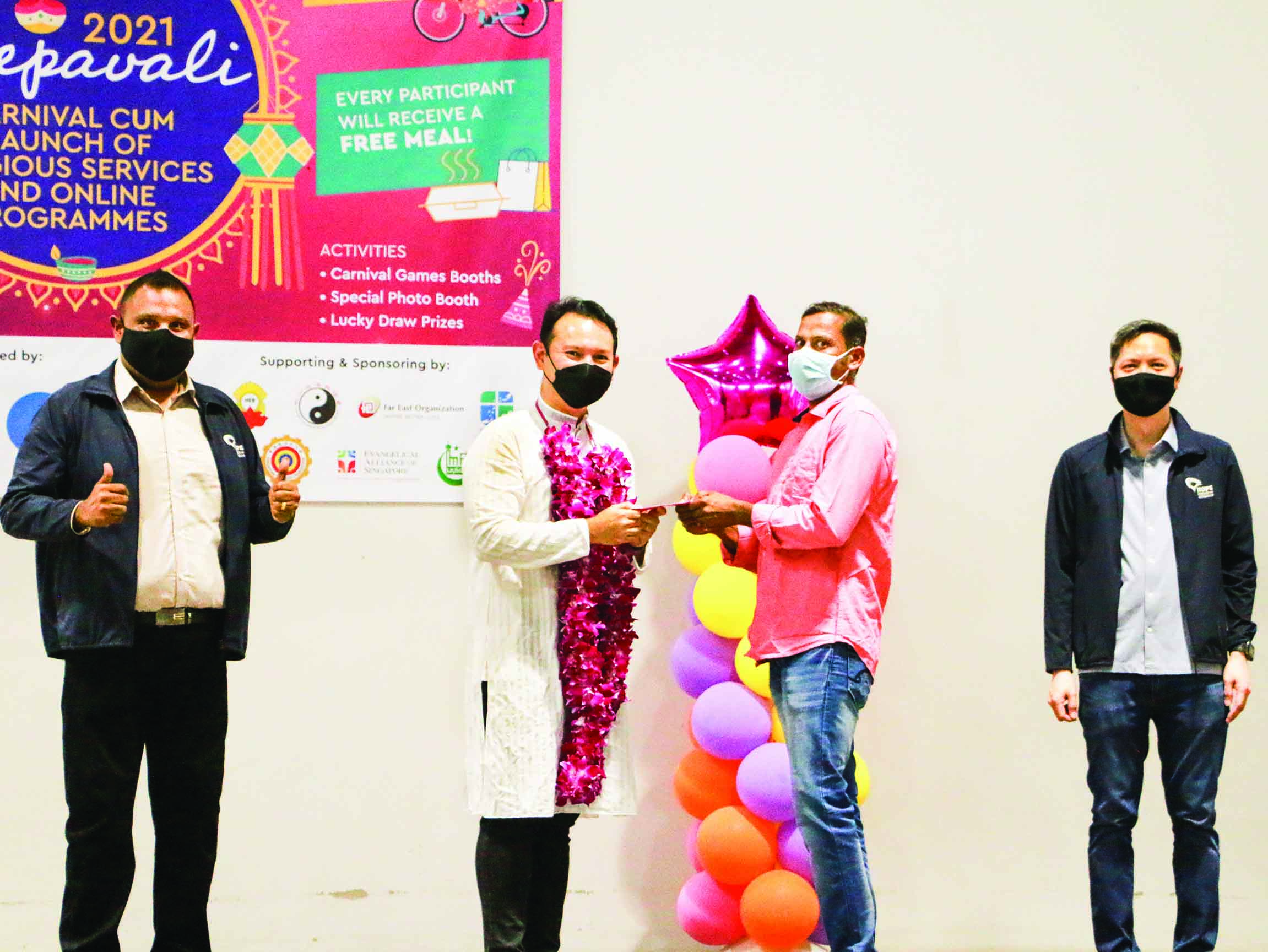 From 4 to 7 November, AGWO, MOM and valuable partners organised carnival events for the guest workers during Deepavali at Tuas South Recreation Centre. During the four-day event, more than 8,000 guest workers received festive meals and gifts. On 7 November, AGWO launched religious services and online literacy programmes for the guest workers. Mr Zaqy Mohamad, the Senior Minister of State for Manpower and Defense, was present as the Guest of Honour.
SowCare will also be an active partner of the Alliance of Domestic Employees Outreach (ADEO) —a movement of Hope Initiative Alliance that was launched on 12 December 2021. ADEO aims to render holistic care and support to our foreign domestic workers in Singapore in a sustainable manner, especially in this time of having to adjust to a new way of life. (Visit adeo.sg for more information about this new initiative.)
Organised by HIA, and co-organised by SowCare and other partners, SowCare Together is an initiative that aims to strengthen the values of mutual respect and positive attitudes between religious communities and nurture the spirit of volunteerism amongst the youth. After taking a pause due to COVID-19-related restrictions, its events resumed in October, with visitations to various religious places of worship, interfaith dialogues and do-good projects.
God is Constant
In this ever-changing landscape, we take comfort in God being the same yesterday, today and forever (Hebrews 13:8). As we remember how God has made Himself known through the birth of Christ on Christmas Day, we continue to endeavour to bring God's Word through fresh initiatives to communities near and far, so that multitudes can encounter Christ and respond to the life-giving Gospel.
Want to contribute to the Global Bible Mission? Click here to donate today.
---