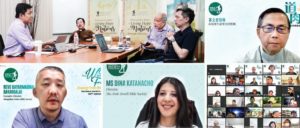 This article was originally posted in our September 2020 Word@Work.
Celebrating 183 Years Of The Bible Mission
---
The Bible Mission had its humble beginnings in Britain, when 15-year-old Mary Jones' determination to obtain a Bible moved Rev Thomas Charles to start a movement to bring the Word of God to all peoples. Later on, Sir Stamford  Raffles and Rev Dr Robert Morrison would continue this work in Singapore in 1823, paving the way for the registration of The Bible Society of Singapore (formerly called the Singapore Auxiliary Bible Society) on 4 July 1837.
183 years later, The Bible Society of Singapore (BSS) still strives to make the Word of God known to all. In commemoration of 183 years of God's faithfulness, BSS organised a four-part special series on Zoom—'The Word Became Flesh: Sowing Care for the Nations'. The event was organised in lieu of the annual Bible Mission Banquet, due to the limitations imposed on public events to curb the spread of COVID-19.
There were three tracts of online sessions in total, covering Leadership, Missions and Language-based ministries. The first session—the Leadership tract, Faith Conversations on Servant Leadership—was held on 24 June, with Speaker of Parliament, Mr Tan Chuan-Jin as the invited guest speaker. Mr Tan shared about how his faith has influenced his leadership, and answered participants' questions about faith and leadership. More than 600 participants joined the session, and over 6,000 have watched the session on Facebook.
The second session, the Missions tract—A Multitude of Nations, One Bible Mission—was held on 2 July. Leaders from the Bible Societies of Bangladesh, Arab-Israeli, Peru and Mongolia shared about Bible Mission work and the challenges of meeting the needs of the local communities amidst COVID-19. More than 100 participants joined in to hear about overseas holistic missions and testimonies from Bishop Adhikary, Chairman of the Bangladesh Bible Society; Ms Dina Katanacho, Director of the Arab-Israeli Bible Society; Rev Bayarmagnai Bayardalai, Executive Director of the Mongolian Union Bible Society, and Mr Pablo Gutierrez, Executive Director of the Peruvian Bible Society. The third and fourth sessions—The Church in China and Chinese Ministry Amidst COVID-19 and Caring for the Indian Churches and Guest Workers Amidst Adversity—held on 8 and 9 July respectively, saw speakers from Churches in Singapore, China and India, who shared about the unique challenges of language ministries, and how they cared for their congregations during the pandemic. More than 200 participants attended the Chinese session, and more than 100 participants attended the Tamil session.
There were more than 1,000 participants across all four sessions who came together on Zoom to commemorate BSS' 183rd anniversary. Visit The Bible Society of Singapore on Facebook and YouTube to peruse the recordings of the various sessions.
In addition, we have been working closely with our sister Bible Societies to be a channel of blessings to the nations. BSS has channeled funds towards holistic mission programmes in various countries, and we are working to collaborate with these countries in the future. (Read pages 12 and 13 for more information about BSS' overseas mission work.)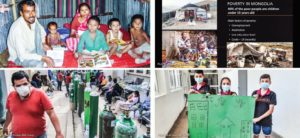 Moving with the Times
To serve and encourage the Christian community amidst COVID-19, BSS has been digitalising our programmes and initiatives to create resources and opportunities for sharing the Gospel.
Since February, the Sower Institute for Biblical Discipleship and Chinese Ministry have been offering online webinars on Zoom, which cover many topics, such as raising a godly generation, mental health, and Biblical studies. As of the time of writing, more than 10,000 have signed up for the courses. (Read page 26 for more information about our upcoming online courses.)
This year, BSS is also introducing Sower Communitech, which offers digitalisation and media services for local Churches and Christian organisations. These initiatives are part of BSS' efforts to help churches and Christian organisations streamline their administrative process and ministries through the use of technology.
One of these services is a National Church Procurement Platform —a collaboration with ThunderQuote—which all local churches may utilise for their ministries and other needs. Visit bss.thunderquote.com to register your church today!
In addition, to help the Christian community move towards digitalisation during the COVID-19 pandemic, we have also launched other digital solutions such as SecureMeet—an online booking system for churches and online AGM solution, as well as a PayNow custom QR code generator.
In spite of changing times and circumstances, BSS remains grateful to God for His provision and grace—which has enabled us to serve those in need locally and overseas for the glory of His Kingdom.
For more information about BSS' 183 Anniversary Celebration, visit bible.org.sg/bss183
To find out more about the procurement platform, visit bss.thunderquote.com.
---
Make An Impact
There are many ways you can help sow the Word and be a part of the Bible mission.
Come make a Difference. Join us in the Bible Mission!
---