"For I will pour water on the thirsty land, and streams on the dry ground..." – Isaiah 44:3a
Generally speaking, in the northern hemisphere July's climate is very hot! Especially if you are in the Middle East. The heat might attract tourists but it scatters the locals. In some parts, the fields are so dry that one would wonder if there has ever been a drop of rain!
Yet, this summer in Turkey, while serving among Iranian refugees, I witnessed a different dry land; a land that has gone through many challenges and trauma; a land that has tasted the pain of homelessness, and the fear of hopelessness; a land that cannot imagine a brighter future in its horizon; a dry land that is thirsty; thirsty for the Word of God.
While their tomorrow is uncertain, in their pursuit of finding an answer, many of them meet the Lord of Hope! The God whose Words are hope-giving, purpose-defining, and thirst-satisfying for the dry lands of our hearts. 
While visiting numerous Iranian refugee Churches in Turkey, I heard the same request over, and over again: "we need more Enjil!" As a drop of water in this dry land, the Iranian Bible Society started a movement of distributing free New Testaments in Turkey. Several thousands of NTs were distributed among Iranian Churches in Izmir, Istanbul, Ankara, Eskishehir, and Denizli. It made a difference, yet the difference between the demands and our limited supplies is as deep as the Grand Canyon! We need a lot of hands to close the gap.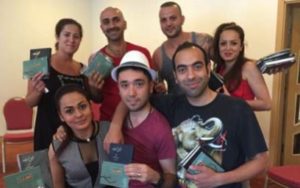 Beloved friends, there are many who cannot afford to purchase a New Testament, yet long to have their very own copy. Would you please consider joining the Bible Society in prayer and partnership to make the Word of God more available worldwide?
"The generous will themselves be blessed, for they share their food with the poor." – Proverbs 22:9
Join us in praying for Iranian Christians:
Remembering the victims of terrorist attack 15 years ago on this September 11th.
School-aged children of Iran who are about to start another school year. May the Lord continue opening the eyes and hearts of Iranian students with the Light of His Word!
Safety of Christians who live inside Iran.
God's provision for the safe delivery of Farsi Bibles in some restricted nations.
More New Testaments and Scripture portion to be made available for distribution.
---