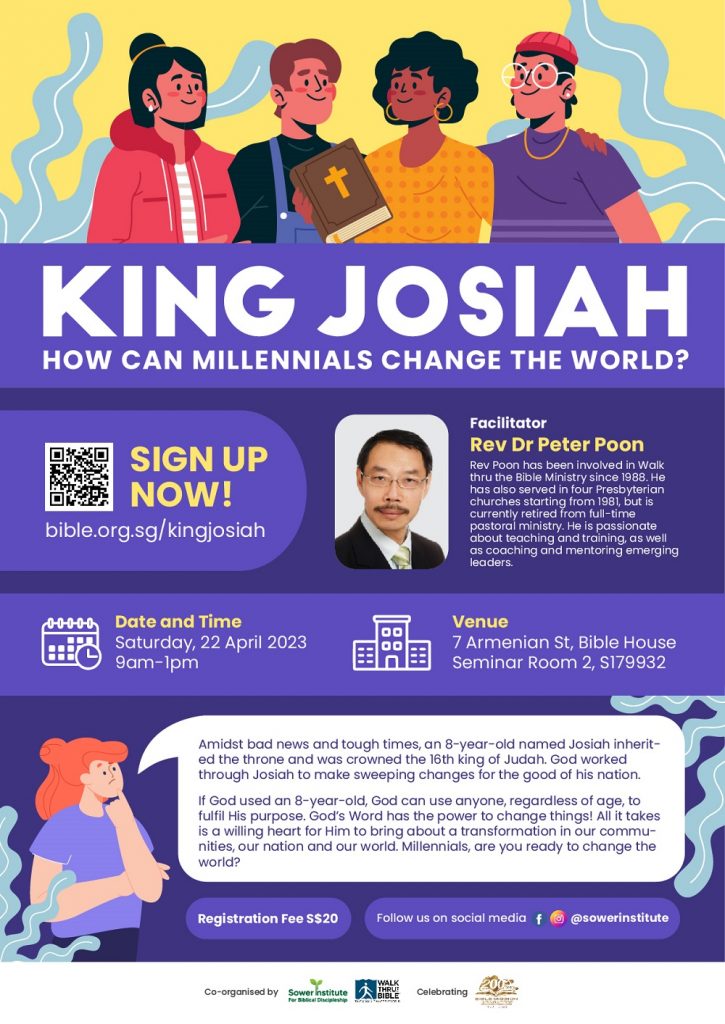 Amidst bad news and tough times, an 8-year-old named Josiah inherited the throne and was crowned the 16th king of Judah. God worked through Josiah to make sweeping changes for the good of his nation.
If God used an 8-year-old, God can use anyone, regardless of age, to fulfil His purpose. God's Word has the power to change things! All it takes is a willing heart for Him to bring about a transformation in our communities, our nation and our world. Millennials, are you ready to change the world?
DATE: Saturday, 22 April 2023
TIME:  9am-1pm
VENUE: 7 Armenian St, Bible House Seminar Room 2, S179932
FEE: S$20
For more information, contact Sam Leow at 63043782 Or email sowerinstitute@bible.org.sg
Follow us on social media:
Facebook and Instagram @sowerinstitute
Facilitator:
Rev Dr Peter Poon
Rev Poon has been involved in Walk thru the Bible Ministry since 1988. He has also served in four Presbyterian churches starting from 1981, but is currently retired from full-time pastoral ministry. He is passionate about teaching and training, as well as coaching and mentoring emerging leaders.
---