Our second NextGen Seminar "Are We Losing the Next Generation?" was held on 28 June 2016 with 110 people from over 50 churches gathering to learn how ministries and parents can effectively disciple the next generation.
Dr Calvin Chong (Singapore Bible College) gave a presentation on reaching and nurturing the next generation in a media-saturated world with many competing voices. He also explained how stories, rituals and relationships are being used to shape values and the worldviews of the next generation.
In the panel discussion that followed, Rev Christopher Chia (Adam Road Presbyterian Church) shared about his church's work in building lifelong disciples from childhood to adulthood and beyond. Ps Joey Asher Tan (Grace Assembly of God) described how his youth ministry has transited to age-based niches instead of one 'mass' youth ministry. Christina Ong (Methodist TRAC, Children's Ministry) talked about how she reduced the fallout when teens leave the children's ministry by introducing a 'tweens' ministry. Finally, Yuen Chee Onn (Centre for Fathering) shared about the need for fathers to be properly equipped for their role and encouraged parents not to make the mistake of outsourcing the work of discipleship to church or youth ministry.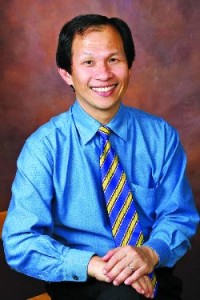 Dr Calvin Chong is Associate Professor of Educational Studies at Singapore Bible College. His current teaching and research areas relate to youth, urban missions, and oral preference learners. Calvin is a board member of The Evangelical Fellowship of Singapore and HealthServe, a community development NGO.
---