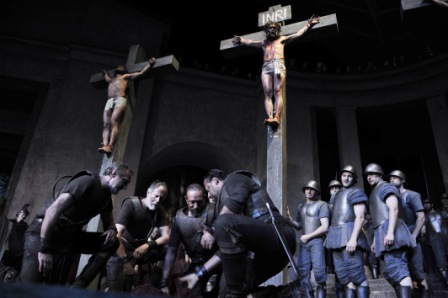 ONCE IN A LIFETIME EXPERIENCE
ONLY ONCE EVERY 10 YEARS
The Oberammergau's Passion Play is a world-famous production of the life and resurrection of Jesus, still presented once every decade, and performed solely by the villagers.
This Bible Land Tour Package feature both the Oberammergau Passion Play and sites associated with Martin Luther Reformation.
Come join us on a journey of inspiration where you will walk in the footsteps of Martin Luther, enjoy guided tours at prominent Reformation sites such as the famed Castle Church where Martin Luther nailed his 95 Theses.
Highlights include Wittenberg, Erfurt, Mainz, Worms, Stuggart, Augsburg and more. You will also visit Charlie Checkpoint in Berlin, Wartburg Castle (a UNESCO World Heritage Site) in Eisenach and the beautiful Neuschwanstein Castle in Munich.
TRAILER-PASSION PLAY 2020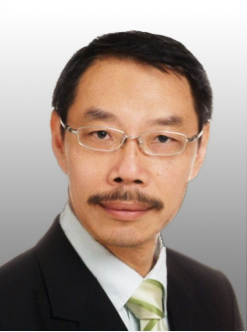 Spiritual Director
Rev. Dr Peter Poon is currently serving part-time at The Bible Society of Singapore in the Sower Institute for Biblical Discipleship (SIBD) and International Bible Experiences (IBEx). He has been involved in Walk thru the Bible Ministry since 1988. Rev. Poon has also served in four Presbyterian Churches since 1981, but is currently retired from full-time pastoral ministry. He is passionate about teaching and training as well as coaching and mentoring emerging leaders. He has also led tours to the Holy Land of Israel from way back in 1989.
Tour Information:
Date: 2 - 13 Aug 2020
Price: ≥20pax: $5,700*
*Terms and Conditions.
- Tour cost includes airfare, airport & fuel taxes and land package as in itinerary.
- Excludes any increase in taxes.
Note:
- The itinerary and flight schedules are subject to change without prior notice in the event of unforeseen circumstances.
- Hotel confirmations will be given 2 weeks before departure.
Tel: (65) 6304 3762 Whatsapp: (65) 8424 7072 Email: info@ibex.sg.
Kindly note that Bible Land Tour enquiries and payments can only be attended to and collected @Armenian Office.
PASSION PLAY 2020 TRAILER PREPARATIONS START NOW
PASSION PLAY 2020 TRAILER THE OBERAMMERGAU PASSION PLAY
Oberammergau Passion Play
For more than 380 years, the largest and most famous Passion Play is performed in Oberammergau, Germany every ten years. This will be the 42nd production of the world renowed Play which runs from May to October 2020.
Where is Oberammergau?
Oberammergau is a town located approximately 60 miles from Munich. This town is beautiful, surrounded by majestic mountains and picturesque meadows. The town is also famous for its Bavarian themes painted along side many of the homes and buildings.
History of the Passion Play
What made the town famous was its performance of the Passion of Christ every decade. The Passion Play goes back to a vow from the year 1633. During that time, the black Plague was sweeping through Europe. The villagers of Oberammergau vowed that if their town was spared, they would perform the Passion for Christ every 10 years. The town was spared, and it is amazing that they have been honouring the pledge from generation to generation.
Interesting Facts About the Oberammergau Passion Play
To be in the play, you must be a resident of Oberammergau.
Over 2000 local amateur actors, singers and musicians will be back on stage at the impressive Passion Play Theatre. This is almost half of the villagers.
Only those who have been born and raised in Oberammergau or have lived in the village for at least 20 years can become part of the Passion Play cast.
Men grow out their hair and beards to make the look authentic to the time.
The play is performed 5 days per week in an open-air theater which seats about 4,700 people.
The play is performed in German, but it doesn't seem to stop people from all over the world, including those that are not of religious backgrounds come together to watch this play.
It is anticipated over 450,000 visitors will attend in2020.
Historically, the Passion Play tickets and packages were sold 12 –18 months in advance.
How to Register
To register, please click the button SIGN UP NOW and you will be directed to the registration page.
To register for Bible Land Tours, please click on the respective category. Choose the tour or trip that you are registering and press Continue.
Complete the registration form and upload a copy of the Passport ID page for each participant.
Cheque deposit is required upon registration and balance payment will be collected once the tour is confirmed.
For participants who are below 21 years, they are required to fill an indemnity form. This is available for download at the CONSENT page.
Kindly note that all correspondence will be emailed to Participant #1.
If you have any enquiries on registration or having trouble registering, please contact us at Tel: (65) 6304 3762 or Email: info@ibex.sg.
Please use the latest Chrome/ Firebox browser to proceed your registration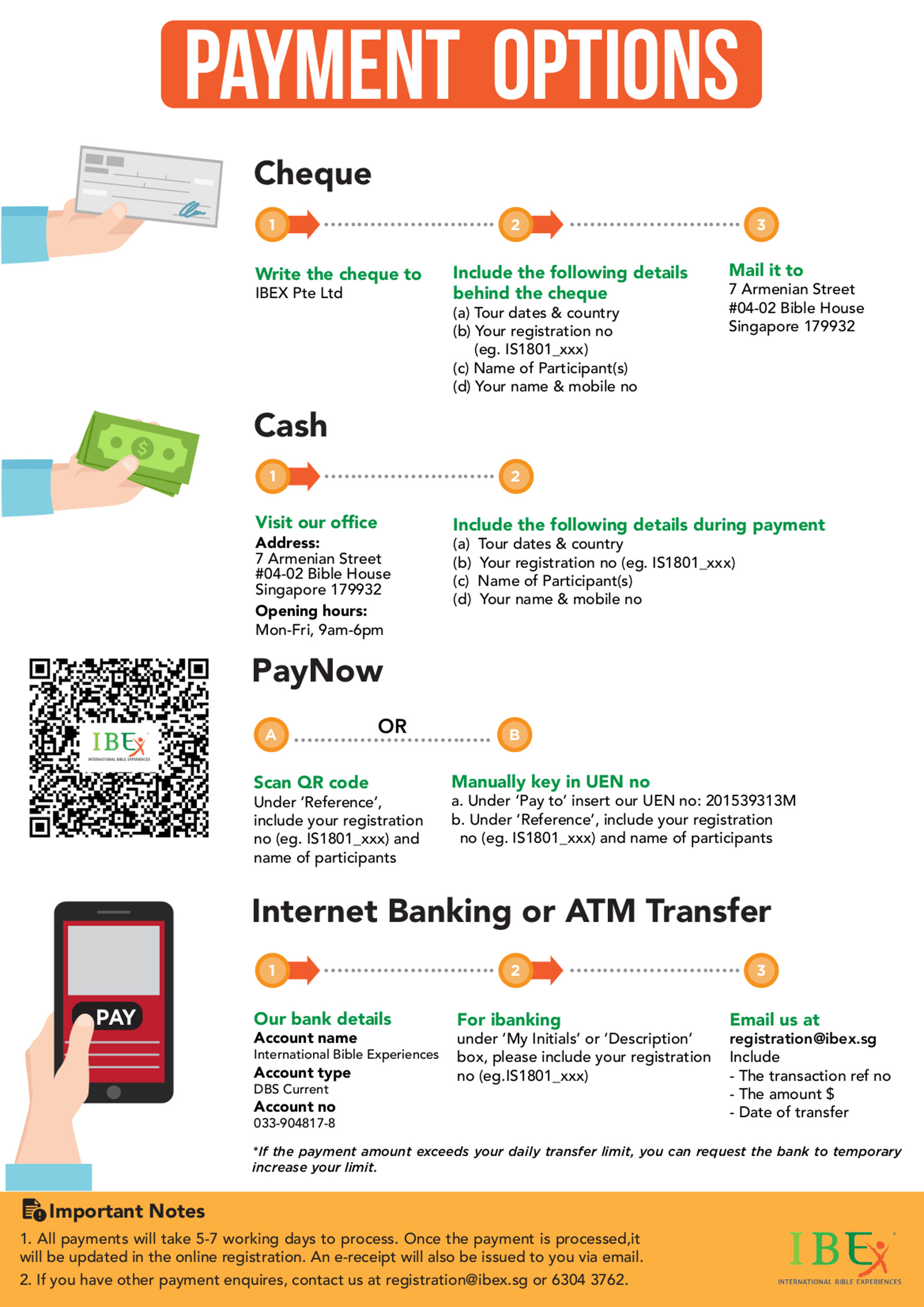 ---